Prénom: Amelie
Pseudo: Mina Hatake/Klanklan
Signe Astrologique: Sagittaire, Cochon
Age: ça change tout les ans alors je ne le dis pas ^^
Loisirs: Manga, anime, jeux video, couture, musique, internet, WoW, Serie, Ciné.

Manga prèfèrè: Fruits Basket, FullMetal alchemist, D.Gray Man, Fushigi yugi, Parmi eux "Hanakimi", X de Clamp, Tokyo Babyloon, Le jeu du chat et de la souris, L'infirmerie après les cours, X Days, Hot Gimmick, Naruto, Angel Sanctuary, Gravitation,Princess Princess,et pleins d'autres.
Anime: Gundam SEED, Code Geass, Macross Frontier, Fruits Basket, GTO, Onegai Twins.
Jeux Video: Final Fantasy VII, VIII, IX et X, Tekken, Dragon ball Z Budokai, Sonic, WoW.

Serie préféré: Friends, Charmed, Esprits Criminels, Les Experts: MIAMI, Dexter, Desperate housewifes, Cold Case, NCIS, Grey's Anatomy, Beverly Hills, Spartacus.

Films Favoris: Grease, Dirty Dancing, Twilight, Titanic, Seven, 7ans au tibet, L'amant, Les memoires d'une Geisha, la trilogie "Le seigneur des anneaux", Les "Star Wars", Sleepers, Legend, Legende D'automne, Ace ventura, The Mask, Sex Intentions, Avatar, Transformers.
Livre: Ma vie est tout a fait fascinante, J'aurais adoré être Ethnologue, Twilight, Geisha, Roman FMA, 16 Lunes.

Musique: Black Eyed Peas, Pete Doherty, Babyshambles, Mickael Jackson, Britney Spears, MGMT, Shakira, Claude François, Daniel Balavoine,Keane, The Pussycat Dolls,Francis Cabrel.
Où suis-je?:
_______________________________________________________________________________________________________________________________________
Mon chéri qui va m'aider a faire ses cosplay et avec qui je vais faire pleins de Duo <3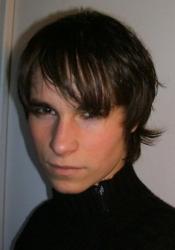 Prénom: Alexandre
Pseudo: Reevers/Suzaku Kururugi

Signe Astrologique: Lion, Buffle
Age: je dis pas non plus :p
Loisirs: Jeux Video, Piano, Anime.
Anime: DBZ, Roméo X Juliet, Avatar: The last airbender, Fruits basket, Tsubasa reservoir chronicles, Code Geass.
Jeux Vidéo: WoW, Counter strike source, Guitare Hero, Soulcalibur, Starcraft, Warcraft.
Série préféré: Stargate SG1, Happy Town, The mentalist, Spartacus, Friends.
Films Favoris: Twilight, Dirty Dancing, Ace Ventura, The Mask, Sex intention, Titanic, Avatar.
Musique: Caravane Palace, Gregory Lemarchal, Léne Marlyn, Francis Cabrel.
Ou est-il?
http://www.cosplay.com/member/185495/